RECREATION CENTERS REQUIRE A HEALTHY MIX OF COATINGS
Tnemec coatings 'work out' for rec centers around the country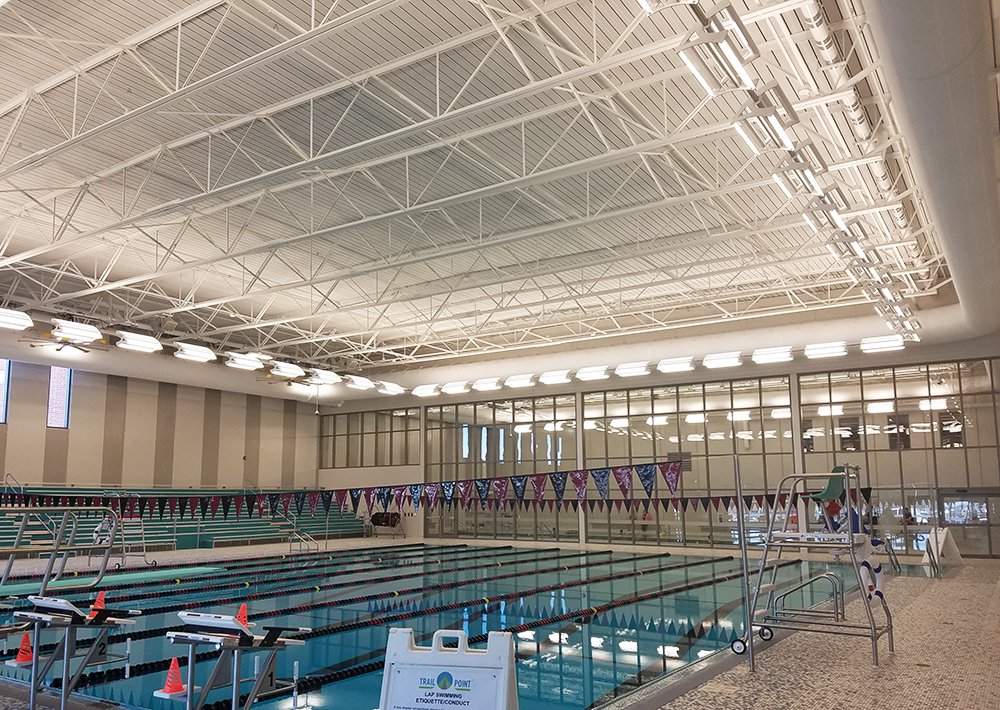 In new and existing recreation centers across the country, natatoriums, gymnasiums, fitness facilities and other diverse environments are in good condition due to advanced technology coating systems formulated to deliver both high performance and long-lasting aesthetics.
At the Des Moines Area Community College (DMACC) in Ankeny, Iowa, student activity and fitness facilities went from outdated to outstanding with the addition of a new $38 million recreation center that used more than 800 gallons of coatings from Tnemec.
Completed in 2017, the DMACC project included a 77,000-square-foot activities center and an 88,000-square-foot recreation center containing a competition swimming pool, gymnasium, jogging track, locker rooms, exercise area and support spaces.
"This was a high-profile project on campus, so both long-lasting performance and aesthetics were important," explained Brett Hansen with SGA Coating Consultants, Inc. "The project required a wide range of coatings formulated for the different environments found throughout the facility."
An innovative fluid-applied insulating coating was specified for structural beams to suppress the transfer of exterior temperatures through the building envelop, which is known as thermal bridging. The warm interior of the natatorium and gym during cold weather created an ideal situation for thermal bridging to occur, which could have resulted in condensation forming inside the walls.
The insulating coating, Series 971 Aerolon Acrylic, was spray-applied to specified areas of the structural beams to control thermal bridging and condensation. The coating was applied at 100 mils dry film thickness to all interior-to-exterior incursions, eliminating the need for structural thermal breaks on the project.
"Aerolon was more cost effective than creating structural thermal breaks," according to Hansen. "A structural engineer can spend hours configuring each structural thermal break used on a project. And each structural break must be assembled by the contractor during construction, adding to the cost of labor."
The natatorium's high humidity and chlorine vapors are also hard on coatings. Metal deck and steel joists, overhead steel structures and aluminum ductwork in the natatorium were primed with an aromatic zinc-rich urethane and two coats of Tnemec's high-performance hydrophobic acrylic, Series 115 Uni-Bond DF.
Natatorium walls received two coats of low-odor, modified polyamine epoxy. Swimming pool floors and walls, lane stripes, gutter surfaces and submerged steps received three coats of Series 66 Hi-Build Epoxoline, a time-tested polyamide epoxy coating.
Exterior masonry surfaces of the recreation center were coated with a penetrating, hydrophobic stain from Tnemec, Series 607 Conformal Stain, which provides protection without altering the natural texture of the substrate.
A $2.4 million renovation of the Mary C. Canty Recreation Center in Myrtle Beach, South Carolina, required more than 1,000 gallons of high-performance coatings for interior and exterior upgrades and alterations. Constructed in 1981, the center required a new roof over the gymnasium and natatorium, along with electrical, plumbing and mechanical repairs.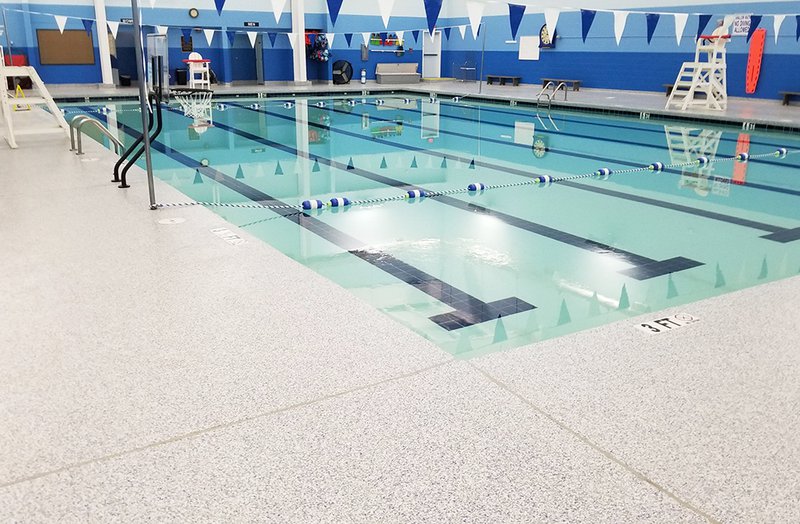 "It was a major rehab project," recalled coating consultant Nick Vause of TSE, Inc., in Columbia, South Carolina. "The project involved gutting the pool area, major restoration of the walls and flooring and recoating the interior and exterior. There were a number of different exposures involved."
The decorative flooring system for the pool deck and restrooms consisted of a moisture-tolerant epoxy primer, a flexible epoxy underlayment, a flake-filled epoxy topping, a modified novolac clear coating and a chemical-resistant urethane finish coat. Aluminum oxide was added to the coating system for slip resistance.
"The floors looked fantastic," Vause emphasized. "On this job, looks were as important as the performance of the coatings. We just happened to provide the performance of an industrial coating that went along with the aesthetics."
Long-term aesthetics was achieved on the exterior-exposed steel using a modified polyamidoamine epoxy primer and a topcoat of Series 740 UVX, a modified polycarbamide finish with superior color and gloss retention. Decking, ceilings and ductwork received two coats of Series 1029 Enduratone, a mildew resistant, water-based low volatile organic compound (VOC) acrylic polymer.
Interior walls received two coats of a high-solids, low-VOC pure polyamide epoxy that provides excellent protection in atmospheric and immersion environments.
The visual appearance of the center's stucco exterior was enhanced using a penetrating, flexible modified polyamine epoxy and two coats of a modified waterborne acrylate coating, Series 156 Enviro-Crete, for protection against driving rain and ultraviolet (UV) light.
Tnemec's corrosion-resistant primers and epoxies have been protecting natatoriums, sports and recreation centers and other community projects in Iowa and South Carolina for years, Hansen and Vause shared.
"These projects established customer confidence in Tnemec coating technology in terms of performance, aesthetics and technical support," Vause added. "They ended up with the best of both worlds, which is always our goal."